Features every website should have in 2021
Gone are the days when a website only has some images and content to display, from which we can incur what the website is about. According to the reports from Internet Live Stats, there are more than 1.5 billion websites in the world (and counting), of which more than 200 million websites are currently active. This is quite a large number and it will keep on increasing because it's easier to create website these days. But what does a website actually need so that it doesn't get lost in those 200+ million websites?
In this article, we will be looking at the must needed features that every website must have. Please note that these features are applicable for all kinds of websites including static websites, dynamic websites, e-commerce websites, business websites, personal blogs etc.
Interactive UI
What does the term Interactive UI mean? It refers to how the user interacts/uses a website. This includes user actions like clicking/tapping on a link or a button or scrolling through a page or hovering over an element on the website. It wouldn't be nice if a website only consists of texts and images which can only be read by the user. A website should have elements which the user can interact with, so that it gives a pleasant experience to them.
Some examples of an interactive UI can be:
Google Maps – They are particularly useful for business websites when they would like to inform the visitor about their company location.
Testimonials – A testimonial is a review given by a customer when they are happy with the services provided by a company. This showcases the quality of services that a company provides.
Newsletters – A Newsletter is a free or paid subscription which provides periodic updates to the subscriber email. This keeps users coming back to a website for more updates.
Search – This is very useful when a website has more pages and it becomes hard to find specific pages. A Simple search functionality can help users filter out the content that they are looking for and also saves them a lot of time.
Funnel Design
Have you heard of a funnel? A funnel is used to track the steps that lead up to that conversion by tracking all the user actions in the website. A Simple example of a funnel is a contact form which almost all websites have. A visitor can give his details in the form and submit, which will be sent to the website owner/company.
Another great example of a funnel design is the Netflix landing page.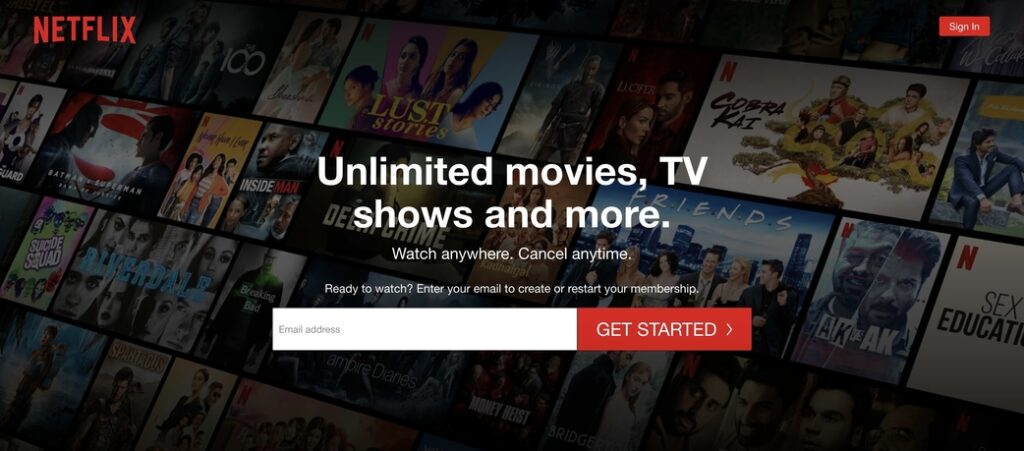 All they need from you is your email address. If you are interested, you can click the "Get started" button and you will be redirected to the next page where you will be creating an account and so on.
Live Chat
Let's say you run a successful textile business and you already have a website to sell your products online. If your customer has any complaints or suggestions, they can only send an email to you and you will be replying back to them only when you see it. There can be two problems here:
You need to check your email every now and then to see if you have received any complaints or suggestions.
It will be harder to reply to customers if there are a lot of emails coming in.
These problems can be solved by integrating a chat application in your website. With that, customers can directly chat with you and get their queries resolved. If you are not sure about what a chat application looks like, then just look at the bottom right corner of this page. You will find a cloud icon with a blue background. That's it 😃
Illustrations
You would have heard the saying "A picture is worth a thousand words". It's true when it comes to a website as well. An illustration is a drawing, diagram or a picture that communicates a concept visually. It attracts visitors to your website and also explains what you want to say in an easy way.
A very good example for a website with illustrations is upsly.com.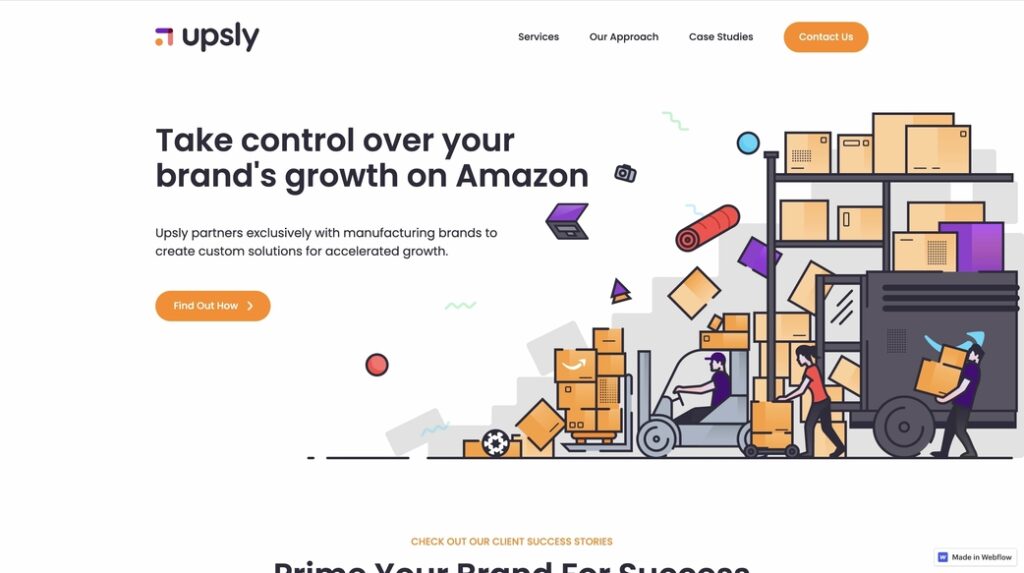 Payment Gateway
This is another important feature for business websites and e-commerce websites. A payment gateway is used to make payments to the seller by a customer. Let's take amazon.in as an example. When you order any product from their website, you will be given an option to pay either via "Cash on Delivery" or through online payments. The online payment option is what you call a "Payment Gateway".
In the world of online, why pay offline? 💳
So, next time when you are planning to build a website, try considering the above features as they are beneficial for yourself and for your customers.
Are you a freelance web developer or a designer looking for projects to work on? Then register into our Freelancer Program and we will reach out to based on your expertise when a project arrives.